Employment Opportunites
Crossroads Pet Resort & Best Behavior Training from time to time has career opportunities available. Knowledgeable and professional staff is the key to the success of any business. At Crossroads Pet Resort that is especially true and we offer some of the best continuing education and career opportunities in the industry.&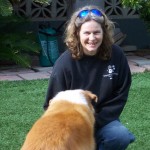 We look for employees who are:
Energetic animal lovers.
Committed to life long learning.
Dedicated to integrity and honesty.
"Can-do" optimists who make things happen.
Excited about change and opportunities to advance. Team players who go the extra mile for themselves, the pets, their team, and our community.
Currently, we are looking to fill the following position(s):
Senior Trainer – at least 3 years previous hands-on training experience; well-versed in learning theory and terminology and application of same. Clicker-saavy, positive reinforcement based only. This is a part-time position.
Kennel management – evening shift manager. This is a hands-on position and oversees staff and all aspects of kennel operations from 2 p.m. until done (average shift length is 7-8 hours)