Group Training Class Info

Group Dog Training Classes are a great way to begin socializing and training your puppy or adult dog. Crossroads Pet Resort offers a number of classes to help train and socialize your dog at one of the lowest rates available in Orange County. Each class is taught by an accredited, experienced trainer who will help you get the most out of your dog. We work hard to keep class sizes small and offer classes at a variety of times so that everyone has a chance to take advantage of training. Below is a list of our current classes. Please give us a call to find out about our class schedule.
Puppy Kindergarten – For puppies 9 weeks to 6 months of age. In this fun class, puppies learn proper social behavior through careful play. They will experience carefully supervised socialization with other dogs and people as well as different substrates, items, and sounds. We also review handling and management skills and offer suggestions to get you and your puppy off to a great head start. Instruction also covers common behavior concerns including housetraining, playbiting, jumping up and chewing. (minimum two sets of vaccines required)
Elementary Basic Manners – is for pups and dogs 5-1/2 months and up that have had NO previous training. This class focuses on teaching your dog some basic manners to help you get control both at home and on walks, including "sit," "down," "come" and loose-leash walking. Also covers basic behavior problems such as chewing, digging and jumping up
Junior Basic Manners is for dog of all ages that have completed Puppy Kindergarten or Elementary Manners (or equivalent). Builds on the basics learned in the previous class to master your dog's response to different cues. Starts building on duration behaviors (such as "stay"), teaches some additional behaviors, and we will start to do more behaviors to earn your praise.
Beyond Basics is for dogs of any age that have completed Junior Basic Manners course or equivalent. This is an intermediate/advanced-level class that briefly reviews the basics and takes you beyond. It concentrates on refining your dog's obedience skills under increasing levels of distance and distraction. We'll also cover tricks and advanced obedience exercises. Off-leash work is the goal.
CGC Course – a Canine Good Citizen acts mannerly in the home, in public places and in the presence of other dogs. This private course helps you and your dog develop the skill necessary to pass the CGC test and achieve CGC certification.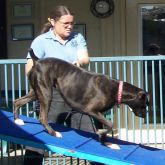 Fun with Agility –  Our class is designed for people who want to experience agility in a non-competitive setting. Your dog will learn to safely negotiate all the obstacles, with an emphasis on building confidence, speed, and control. For those wishing to continue on into competition, you will have learned the basics that will transfer into a competition course. See what Agility can do for your dog and more importantly the bond between you and your dog.
Therapy Dog Class – A therapy dog and handler provide motivational, educational, recreational and/or therapeutic benefits to enhance the quality of life for those in various residential facilities. In this class, you and your dog will develop the skills necessary to safely visit in hospitals, nursing homes, classrooms, and other approved locations where people need comfort and you can participate in the treatment process.

Nosework – This class is designed to develop your dog's natural scenting abilities by using their desire to hunt and their love of toys, food and exercise. This will help to build your dog's confidence and also burn tons of mental and physical energy. You will learn how to read your dog and pick up subtle signals that your dog communicates when on the trail of the scent. Fun for you and your dog.
To prepare for a group class:
Pups must have received at least two sets of shots in their puppy series.
Dogs over four months must have a current Rabies vaccination and be up-to-date on DHLP, Parvo, and Bordatella.
READY TO ENROLL? Call us now: 714-821-6622