Dog Grooming Salon
CROSSROADS ALL-BREED DOG GROOMING
Shampooch & Style Salon
714-821-6155 All-Breed Dog Grooming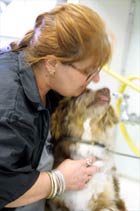 Take advantage of our professional Dog Grooming Salon with state-of-the-art equipment. Our bathers will give your dog a relaxing massage while the gentle bathing solution penetrates the coat for the deepest cleaning possible.  Pets love the massage-like treatment!
If your dog needs a hair cut, our professional groomers will clip your best friend to your exact specifications.
Shedding a problem? Try the FURminator shed-less treatment…the solution to the pet hair and dander problem.
We treat all pets with gentle loving care so that they enjoy the grooming process. We specialize in dealing with difficult dogs. Because we take time to earn their trust and make each pet comfortable it is rarely necessary for us to use a muzzle. We can often accommodate dogs that other grooming parlors would turn away based on temperament. As all breeds vary, Please call for complete grooming prices for your dog – (714-821-6155).
Please give our office a call to see what our Grooming Salon can do for you and your best friend!
"The groomer did a fantastic job! Nice trim. Our dog can be difficult so we are very happy they were able to do such a  great job" – E. Nakamoto
Our grooming salon services friends from all over Orange County…… including the communities of Huntington Beach, Long Beach, Seal Beach, Cypress, Stanton, Anaheim, Garden Grove, Buena Park, Westminster, Fullerton, and more!