Doggie Daycare
DOGGIE DAYCARE PROGRAMS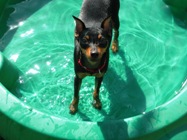 Doggie daycare provides a welcome alternative to leaving your best friend cooped up in the house or apartment all day. Dogs are social animals and daycare provides the opportunity for them to be part of a pack where they can enjoy interacting and playing with other dogs. After playing all day, your best friend will be ready to settle down at home with you for a relaxing evening. For dogs that suffer from anxiety when left alone, daycare can be a great help for both dog and owner.
SO HOW DOES DAYCARE WORK?
Crossroads Pet Resort offers a very unique Doggie Daycare Program. Our Daycare dogs are grouped by an accredited trainer who pairs them with dogs of similar size, age, and temperament. This means your tiny toy poodle won't feel overwhelmed in a sea of BIG dogs and will get the most out of playtime w

ith friends similar in size. In Daycare, everyone has an appropriate friend or group of friends. Unlike some places that just throw everyone together, we want dogs to feel safe and comfortable in their play groups. We also do not discriminate against any breed of dog nor discriminate based on whether your dog is neutered or intact. We work hard to ensure that any dog that is social is paired with an appropriate friend.HOW DO WE ACCOMPLISH THIS?Each dog must have a social test prior to being admitted into our exclusive daycare program. Social tests are administered only by one of our accredited dog trainers. They take approximately 15 to 30 minutes to complete and are done by appointment only. Call our office at (714) 821-6622 to schedule your dog's social test for daycare. We also look to evaluate your dog's overall temperament towards people, objects, and space.
WHAT ELSE DO I NEED TO GET STARTED IN DAYCARE?
In addition to completing a social test with one of our trainers, all daycare dogs must be current on all vaccines. A copy of a current shot record will be required on your first visit. You will also need to fill out basic paperwork upon admitting your dog into our daycare program. After the initial visit, your dog may be dropped off without reservation, Monday through Saturday, during our regular resort hours.
WHAT IF MY DOG DOESN'T PASS ITS SOCIAL TEST
The trainer who tests your dog will often make recommendations for appropriate training to help your dog eventually pass the test. We want to be sure that every guest in our Daycare is safe so it is vitally important that we only pass dogs that are truly appropriate for a daycare situation. So even if your dog does not pass their social test, they can still be admitted into a Daycare and Training program or into another one of our training programs. Dogs that fail their social test are allowed to be re-tested at a future date at no additional charge.
Come for a tour and let your dog play!
We offer large, outdoor grass play yards, lots of fresh air, a friendly, attentive staff, and with over 30 years experience and at our current location since 1996 we have experience that few can match. And, We Love Dogs!! Our staff genuinely cares about each and every dog and treats each as if it were their own. Come see why we are the Best Doggie Daycare in Orange County.
| | |
| --- | --- |
| DAYCARE | |
| Initial Social Evaluation Test | $20 |
| | |
| Half Day Price (any 4 hours) | $14.00 |
| Full Day Price | $26.00 |
| Late fees after 7pm pickup | $1.00/per minute |
| | |
| DAYCARE DISCOUNT PACKAGES | |
| 5 Visits Pre-Paid Package | $115.00 |
| 10 Visits Pre-Paid Package | $225.00 |
| 20 Visits Pre-Paid Package | $360.00 |
| 30 Visits Pre-Paid Package | $510.00 |
| Club (Monthly) | $346.00 |
| | |
| Add daily training (45 Minutes) | $31.00 |
| | |
|  Aggression – please call for rates. | |
CROSSROADS PET TAXI SERVICE We will be more than happy to pick-up or drop-off your pet with our friendly, dependable Pet Taxi Service!