Fun & Play Packages
Pets love attention and they love to have fun! The more interaction and activity they receive, the healthier and happier they will be and very likely to forget they are even away from home! Recognizing that each pet has a distinct personality, we offer the following activities to satisfy the needs of all our guests.
Social Time – (included in Social Boarding Program) group play sessions for dog friendly dogs in our large, outdoor grass play yard. Your dog can romp and play with other dogs (matched by size and temperament) in groups of 5 or six dogs, under the supervision of a pet care attendant.
15-20 Minutes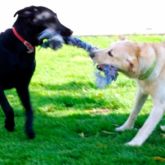 Private Exercise -(included in Bed & Breakfast Boarding Program) Private play time for your dog in our large, outdoor grass play yard with one of our pet care technicians.
15 Minutes

Neighborhood Walks – For dogs that like to get out and about town. Our pet care technicians (or trainer) will walk your dog around the block and to the local shopping centers.
15-20 minute walk

Kong Time – kong toy stuffed with yummy filling. Keeps your dog busy with a chewing workout! 

Brushing – 10 minutes of gentle brushing time. Great for dogs with long and/or silky coats that tend to mat.

TLC – 10 minutes of quiet cuddling and petting by one of our pet care technicians.

Sweet Dreams – stuffed bone at bedtime.

Bedtime Story – 10-minute personal bed-time tuck-in session complete with bedtime snack and story.
10 minutes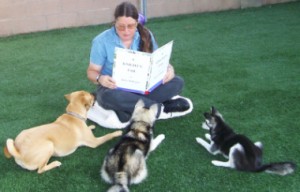 Cat Private Playtime
15 minutes