Dog Boarding
Dog Boarding in Stanton, CA
Also Serving Long Beach
With our Bed & Breakfast program each guest that stays at Crossroads Pet Resort starts the day with breakfast and potty time. They then move to their individual day areas. We offer optional activities such as private play time, stuffed kongs, brushing or special TLC. They also receive an additional meal in the evening, additional optional activities, and are then put to bed in their private sleeping areas. Every dog sleeps inside in a quiet, private, temperature controlled bunk on cots covered with soft fleece, and with toys or chewies to help them go to sleep. For dogs that prefer the comfort of their "den", fleece-lined crates are also available.
For our social canine guests, boarding also includes socialization time on our special grass play field. Dogs are paired up with a buddy (or several buddies) in their day area and receive two group play sessions per day in our play park where they play with other social dogs, chase a ball with a supervising staff member, or splash around in one of our kiddie pools. Each guest is also given "quiet time" during the day to ensure everyone is given adequate rest from their long day of play.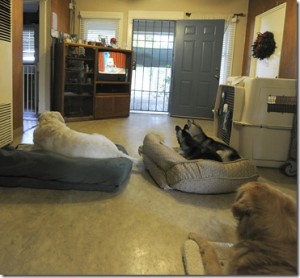 Another of our resort's unique features is our Home Sweet Home. This program offers all the benefits of the Bed & Breakfast program but also gives your pet our utmost VIP service, where your pooch gets to hang out during the day in our main office or in the private home, and sleep in the house where our kennel attendant lives. Your dog gets all the sights, sounds, and smells of being in a real home environment, and all the attention our staff can give with your dog snoozing right at our feet. This program is especially beneficial for dogs who have fears or anxiety and cannot be left in a normal kennel environment. It is also most appropriate for young puppies, older dogs, or dogs with special needs. Be sure to inquire more about what our Home Sweet Home can do for your dog!
Also, any pet who stays for more than three days, will receive a bath before leaving at discounted salon prices – Our guests love to go home clean!
Be honest about any known medical condition your pet may have. The staff will be better able to recognize problems with a particular condition if they know what to look for. Take along all medications your pet may need during the stay. Be sure they are all labeled appropriately. Before you leave, be sure to confirm with the staff that the instructions for your pet's medication's has been entered properly.
Boarding Geriatric Pets
Being away from home can be more stressful for older pets than for younger ones. They are more set in their ways, and their patterns more deeply ingrained. Dogs and cats love patterns-knowing what is going to happen and when and changing these patterns can upset them. Additionally, geriatric pets are more likely to have underlying health problems and boarding, especially if your pet has never been boarded or boarded infrequently, may cause these conditions to become apparent or worsen.
At Crossroads, we want your senior pet to go home happy and healthy so we do require that your older pet stay in our Home Sweet Home program where we provide additional attention, extra bedding, soft music, or a special boarding area away from the general pet population. Special diets can be prepared to meet the nutritional needs of a senior pet, or you may choose to provide the food of your choice. Please discuss your pet's individual needs and health conditions in advance, along with what to do if something changes.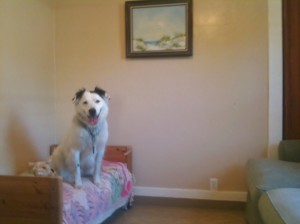 Boarding Puppies
We are committed to the health, happiness and training of your new puppy and therefore the Home-Sweet-Home boarding program is a requirement for all puppies 6 months old or less:
We also suggest adding the following optional activities to ensure that your puppy has premium and individualized pampering time:
Daily Training session – includes brushing/handling session

Housetraining – we keep your pup on a potty schedule

Kong time – to satisfy teething and chewing needs

Sweet Dreams – to keep puppy content at bedtime
Our Dog Boarding services all of Orange and Los Angeles counties. Ask about our Pet Taxi Service.
We also offer boarding to caged pets and exotics.